We are part of NHS England SE and aim to recruit and train doctors and those from a professional background other than medicine, to enable them to acquire the knowledge, skills and experience required to be effective Public Health specialists.
We aim to accommodate the evolving role of the specialty to allow a choice of career path and to cover the academic, health protection and service components of Public Health practice.  Please refer to our FAQs page.
The Public Health training programme is a five year programme which includes an academic year undertaking the MSc in Global Health Science and Epidemiology at the University of Oxford, Nuffield Department of Population Health.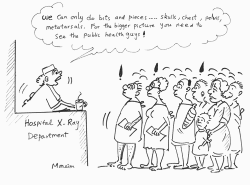 In addition, opportunities are available for Academic Clinical Fellow posts on the training programme. The Academic Clinical Fellowship programme is expected to expand and strengthen academic training in Public Health. The fellowship enables the Public Health training scheme to provide academic training and support to appropriate candidates to enable them prepare for a career in academic Public Health.
Do take a look at possible placements,  current registrars in training and some of our alumni.global
Why come to the Oxford School of Public Health?
In summary we have:
A structured programme that includes training time in academic and health protection sub-specialities and appropriate rotation to suit career choice in the last two years of training;
The opportunity to undertake the prestigious Masters in Global Health Science and Epidemiology at Oxford University;
The opportunity to train in internationally renowned academic units at Oxford University;
Excellent examination results and the opportunity to act up as consultant in a targeted placement to ensure appropriate consultant experience and facilitate successful consultant applications at the end of training;
A wide range of training opportunities available in Thames Valley and across the South East including Nationally Available Training Placements (NATPs), placements at the Centre for Radiation and Chemicals and Environmental Hazards.
Watch our video to find out more about the Oxford specialty registrar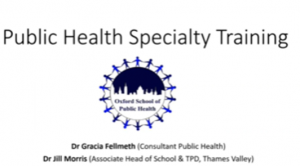 Please also refer to our FAQs page on the website for any further queries you may have.