Applications for the 2023 Scheme
Applications for the 2023 scheme are now open.
The application includes a self-assessment guide that you will be required to complete. Please send completed applications to tvpublichealth.se@hee.nhs.uk by Wednesday 23 November 2022, 12:00 hours.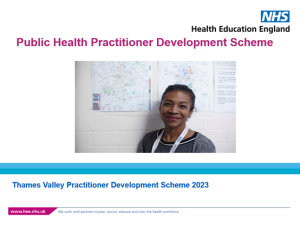 If you would like an opportunity to understand more about the scheme, Sally Cray, Portfolio Development Group Facilitator will be leading a session on Tuesday 01 November at 09:30. Please email lauren.kirk@hee.nhs.uk for a place.
For any further information and any questions please do not hesitate to contact us at tvpublichealth.se@hee.nhs.uk
Key Dates
Shortlisted for interview Monday 28 November
Interview: Friday 9 December 2022, times will be confirmed to successful applicants
Induction: Wednesday 18 January 2023 (Virtual online event)
Submission of portfolio: Friday 15 December 2023
Download the schedule for key dates throughout the 2023 practitioner scheme.